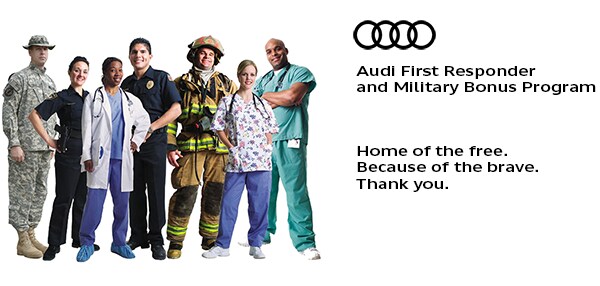 Military Select Bonus Program
Audi Wilsonville thanks you for your service.
Audi Wilsonville
is pleased to offer the Military Select Bonus Program.  This is extended to First Responders as well as current and former service members of the United States Military.
When you purchase a new, untitled 2017 or 2018 Audi model, you'll receive $500 in Bonus Cash.

Additionally, with respect for your service, Audi Wilsonville would like to offer you Audi Care Maintenance at no charge with the purchase or lease of a new, untitled 2017 or 2018 Audi vehicle. We truly thank you for your service.


An

Audi Wilsonville

Exclusive offer.

*Audi Care Maintenance includes regularly scheduled maintenance up to 50,000 miles.

*Offer exclusive to all available in-stock new Audi models through Audi Wilsonville. 

*Offer expires April 2, 2018.
---
Audi Care Maintenance

    We take care of our business -
    so you can easily go about yours.
Audi Care prepaid scheduled maintenance packages are an excellent way to help keep your Audi performing at its best. Here are just some of the benefits you receive:

Savings versus purchasing these services separately.(1)
Prepaid costs to help protect you against inflation.(2)
Scheduled maintenance aligned with the mileage/time intervals
recommended by Audi.(3)
Trained technicians who use factory procedures, specialized tools and
Audi Genuine Parts to deliver the care your Audi deserves.
Acceptance of Audi Care and Audi Care Select at authorized Audi dealers
in the U.S. for your convenience 
Coverage of up to 50,000 miles for your peace of mind 
Savings of $869
*Program is extended to U.S. Military active duty, U.S. Military Reserve and Retirees, U.S. Military Veterans, First Responders and their spouses. Acceptable documentation for Military Members include: Leave & Earnings Statement, DD Form 214 or Certificate of Release or Discharge from Active Duty. Spouses must provide spouse's LES. First Responders (Police, Fire or EMT) must provide a copy of a valid proof of service such as a pay stub, badge or official identification. This program is compatible with the following programs: Audi Owner Loyalty Program, Audi Acquisition Programs, Dealership Employee Purchase Program (DEPP), Contract Employee Purchase Program (CEPP), Affinity Program (AP), and Audi Financial Services (AFS) Special and Standard rate programs and all Marketing Allowance Programs. This program is NOT compatible with the following programs: Dealer Small Fleet Incentive (DSFI), Courtesy Vehicle Program (CV), VIP Program (VIP), or European Delivery. Offer ends April 2, 2018. Audi of America Bulletin #A18UMK05. ©2018 Audi of America, Inc.